This article may contain affiliate links. For full information, please see our disclosure here.
Stac Pollaidh – often anglicised to Stac Polly – is one of the most fun mountains to hike in the Northern Highlands.

Alongside The Cobbler, Stac Pollaidh's true summit is difficult to reach as it involves some serious scrambling skills. Although we attempted to reach the true summit, we fell short of reaching it by 12 metres as the final tower was a vertical pitch above a big drop, which would have to be reversed. It was simply too risky and totally outside or skill zone. If you're an experienced scrambler, however, go for it! I do not recommend attempting the true summit with kids in tow.

Reaching the Eastern summit is an adventure in itself as it involves a short and easy scramble which isn't exposed. From there, you'll have breathtaking panoramic views over the Assynt.

This article covers two options for hiking Stac Pollaidh: the Eastern Summit, which can be reached without the need for scrambling skills, and attempting to reach the True Summit, which presents a more challenging ascent.
TABLE OF CONTENTS
1. About Stac Pollaidh
2. Facts about the Hike – Eastern Summit
3. Facts about the Hike – Almost True Summit
4. Getting to the Start of the Hike
5. The Ascent
6. Our Attempt to Reach the True Summit
7. The Descent
8. Where to Eat near Stac Pollaidh
9. Resources
10. Frequently Asked Questions
11. Hiking Gear for Stac Pollaidh
12. Final Words
1. About Stac Pollaidh
Stac Pollaidh is a small but mighty peak located in the picturesque Assynt region of northwest Scotland. Standing at a height of 612 metres (2,008 feet), it is made up of layers of Torridonian sandstone that give it a unique, stepped appearance.

The mountain is popular with hikers and climbers, who come to enjoy the challenging terrain and stunning views from the summit. Despite its relatively small size, Stac Pollaidh offers a variety of routes to the top, ranging from easy scrambles to more difficult rock climbs.

The views from the summit are simply breathtaking – you'll be able to see for miles in every direction. Whether you're an experienced hiker or a beginner, Stac Pollaidh is a must-visit destination. Its natural beauty, combined with its varied terrain, make it a true gem in the Scottish Highlands.
2. FACTS ABOUT THE HIKE – EASTERN SUMMIT
Starting Point: Stac Pollaidh Car Park, Ullapool IV26 2XY, Scotland | Grid Ref: NC 107 095 |
Open in Google Maps
Distance: 4.4 km
Elevation Gain: 544 m
Time: 2.5 – 3.5 hours
Difficulty: Moderate
Ordnance Survey Map: OS Explorer 439
Stac Pollaidh Map & GPX File: View Route Map & Download GPX File
Stac Pollaidh – Elevation Profile
---
3. FACTS ABOUT THE HIKE – ALMOST TRUE SUMMIT
Starting Point: Stac Pollaidh Car Park, Ullapool IV26 2XY, Scotland | Grid Ref: NC 107 095 |
Open in Google Maps
Distance: 5 km
Elevation Gain: 710 m
Time: 3 – 4 hours
Difficulty: Strenuous
Ordnance Survey Map: OS Explorer 439
Stac Pollaidh Map & GPX File: View Route Map & Download GPX File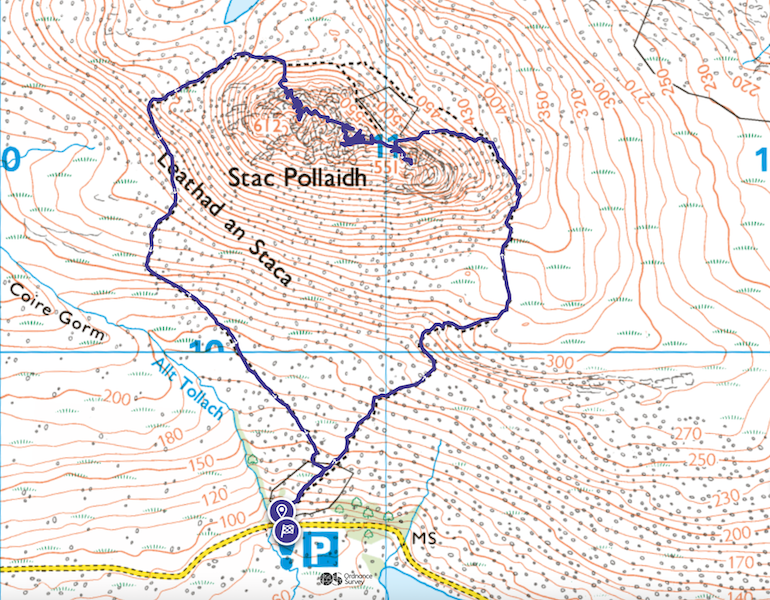 Stac Pollaidh (almost) True Summit – Elevation Profile
---
4. Getting to the Start of the Hike
To get to the start of the hike, park at the Stac Pollaidh Car Park, Ullapool IV26 2XY, Scotland. Simply open the address in Google Maps for directions. Once you've arrived at the car park, cross the road to find the start of the path which leads through a gate.
5. THE ASCENT
The hike to Stac Pollaidh begins with a footpath through a dense, verdant forest. As you make your way through the trees, the path opens up to a wide expanse of grassland, stretching out before you.
The contrast between the shadowy woods and the sun-dappled grassland is striking, and the change in scenery helps to keep the hike interesting. The grassland also provides a wonderful opportunity to take in the views of the surrounding countryside, with mountains and lochs visible in the distance.
Route-finding is straightforward because there are no other footpaths in the vicinity.

The most popular way to hike the circuit of Stac Pollaidh is to tackle it in an anti-clockwise direction. By going this way, you'll be able to reach the summit more quickly. Furthermore, the path leading to the summit from this direction is in better condition. The return path from the summit can become boggy when wet.
As you continue on the path, it will become steeper. You will walk around the Eastern Peak, which can be seen in the image below, before making your way up to the summit.
Stunning views can be seen in every direction. We were fortunate to have clear, blue skies on our hike, which made the experience all the more enjoyable.
The hike becomes steeper at this point, but it is still manageable as it is a relatively short distance. Keep pushing on and you'll soon reach the top where you can rest and take in the beautiful views.
As you near the Eastern summit of Stac Pollaidh, you will need to do some light scrambling over a short, non-exposed section of the path. This should not pose too much of a challenge.
At the summit, you will be rewarded with breathtaking 360-degree panoramic views on a clear day. The South offers views of Loch Lurgainn and the Coigach peninsula, the Summer Isles can be seen to the West, Suilven is visible to the North, and the Assynt region's other peaks can be seen to the East.

These views were truly breathtaking and were probably the best of all the hikes we did in Scotland.
---
6. Our Attempt to reach the True Summit
I had originally planned our hike to Stac Pollaidh to only include the Eastern Summit, as I had done enough research to conclude that the True Summit was out of bounds for us.

However, once we reached the Eastern Summit and saw a family with teenagers making their way towards the True Summit, my son exclaimed that he wanted us to try it as well. I explained that it wasn't safe, as it would require serious scrambling skills at one point and that I wouldn't be able to keep us all safe. I also pointed out that we probably didn't have the required skills. Despite this, my son was determined to try and reach the True Summit.

Ultimately, I agreed that we would try to reach it, but emphasized that it wasn't a guarantee. We would simply see how far we could go and turn back if it became too unsafe to continue. The kids agreed.

This was the only time during our month-long road trip through Scotland where I questioned both my parenting skills and my decision-making abilities. While I'm all for adventure, trying new things and having fun; safety is my top priority. My kids are usually up for anything I suggest; but, my goodness, they can also be very persistent when they really want to do something.

The moral of the story: Be flexible and spontaneous, but always prioritise safety. And as a parent, be prepared for your kids to challenge and argue with you, but don't let that stop you from taking them on a solo road trip!
Finding the route to the True Summit was like navigating through a maze. We had to keep trying different paths and sometimes had to backtrack when we reached a dead end. At one point, I had to carefully climb around a large boulder, but I didn't feel it was safe for the kids to do the same. So, I searched for an alternative route for them to follow.

By examining the GPS track recorded during our hike, you can see the numerous twists and turns we took as we attempted to reach the True Summit.
This is a section of the maze that ultimately leads to the True Summit of Stac Pollaidh.
As we navigated through the maze of rocks and boulders, we were treated to glimpses of the breathtaking views to the North.
After numerous turns and detours, we finally arrived at the most challenging part of the hike: a Grade 3 scramble up a pinnacle (visible in the middle of the image).
After examining the pinnacle up close, it became apparent that it was beyond our current skill level. While we might have been able to ascend it with the use of a rope, attempting to do so without protection would have been reckless due to the significant drop.

Additionally, we would have needed to descend the pinnacle, which is more difficult than climbing up. It became clear that it was not worth the risk to try and tackle this section of the hike unsecured, so I decided to give it a miss. My son was understandably disappointed, but this decision was non-negotiable as the safety of our family was the top priority.

Nevertheless, reaching 600 metres out of the total 612 metres of Stac Pollaidh was still an accomplishment in itself!
---
7. THE DESCENT
After almost reaching the True Summit of Stac Pollaidh, it was time to begin our descent. Navigating through the maze of rocks and boulders yet again on the way back would have been difficult, so when I spotted a gully that led to a footpath, we decided to take it.

It turned out that we had descended the North Gully, which was a helpful shortcut but had some steep sections. It was so steep, at times, that we had to slide down on our bottoms to navigate the slope.
---
Finally, we rejoined the footpath that leads from the Eastern Summit back to the car park, following an anti-clockwise route.
As mentioned earlier, some parts of the return path can become muddy when wet, which was the case on the day of our hike. My son even managed to sink into a muddy bog up to his thighs, much to his dismay. There's certainly never a dull moment when hiking with kids!
On your return, you will need to pass through the gate once more and walk through the woods for a short distance until you reach the final gate.
After passing through the final gate, cross the road to arrive back at the car park. You made it!
8. WHERE TO EAT NEAR STAC POLLAIDH
After spending over 5.5 hours on the mountain, we rewarded ourselves with a delicious seafood feast at Pete's in Lochinver. The restaurant was about a 45-minute drive from Stac Pollaidh, but it was well worth the trip. Plus, it was conveniently located on the way to our next destination the following day.

My daughter opted for a tender leg of lamb, while my son and I each enjoyed a seafood platter. His face lit up when he saw the size of his plate! The food was absolutely delicious.
9. RESOURCES
When planning our 4-week road trip through Scotland, I drew inspiration from several travel guides to help me plan our itinerary and choose the best hikes and activities. These guides included Scotland The Best, Rough Guide, Cicerone, Bradt, and Wild guide books. I particularly like the structure and information provided in these guides, and they were instrumental in helping me plan our trip.

If you're planning a trip to Scotland and want to explore the beautiful countryside and hike the stunning mountains, be sure to check out these guide books. They are a great resource and will help you plan the perfect itinerary for your trip.
SCOTLAND TRAVEL & WALKING GUIDES & MAP FOR Stac Pollaidh
10. FREQUENTLY ASKED QUESTIONS
How long does it take to climb Stac Pollaidh?
The time it takes to climb Stac Pollaidh's Eastern Summit varies depending on a few factors, such as your fitness level, the weather conditions, and the number of breaks you take. The average time to reach the summit is 1.5 – 2 hours, and it takes about 2.5 – 3.5 hours to complete the circuit. Allow enough time for the hike, as you'll want to take your time and enjoy the stunning views along the way.
How high is Stac Pollaidh?
Stac Pollaidh stands tall at 612 metres above sea level.
Parking for Stac Pollaidh?
There is free parking available at the Stac Pollaidh Car Park, Ullapool IV26 2XY, Scotland. Simply open the address in Google Maps for directions.
Is Stac Pollaidh A Munro?
No, Stac Pollaidh is not a Munro. A Munro is a mountain in Scotland that is over 3,000 feet (914.4 metres) in height. Stac Pollaidh is 612 metres (2,900 feet) above sea level, so it does not meet the criteria to be classified as a Munro. Instead, Stac Pollaidh is a Graham, which is a Scottish mountain that is between 2,000 and 2,500 feet (610 and 762 metres) in height.
What is the best time of year to hike Stac Pollaidh?
In general, the hiking season in Scotland runs from April to October, with the driest and warmest weather typically occurring in the summer months (June to August). If you're looking for the best weather and the longest days, then hiking Stac Pollaidh in the summer may be the best option for you. Keep in mind that the weather in Scotland can be unpredictable, so be prepared for all conditions and plan accordingly.
Weather for Stac Pollaidh?
When planning a hike to Stac Pollaidh, it's important to check the weather forecast in advance. The weather in the mountains can be unpredictable and can change quickly. Be sure to check the Mountain Weather Forecast by the MetOffice website or app to get the most up-to-date and accurate weather information. This will help you plan your hike and ensure that you're prepared for any conditions that may arise. It's also a good idea to pack extra layers and rain gear, just in case.
Is Stac Pollaidh dangerous?
Hiking to Stac Pollaidh's Eastern Summit is not considered a dangerous hike, but it is moderately strenuous due to the steepness of the final ascent. The majority of the trail is well-maintained, with stone steps in some sections but other sections are boggy. As long as you're properly prepared and have the necessary hiking gear and experience, Stac Pollaidh is a fairly straight-forward hike that offers stunning views of the surrounding landscape.

Stac Pollaidh's True Summit, however, is indeed dangerous. It requires experienced scrambling skills and is not suitable for children, unless they're roped in.
Would I recommend hiking Stac Pollaidh with kids in tow?
Absolutely! This is a fun mountain to climb for children. The Eastern Summit is straight forward and requires only very easy scrambling at the peak. At 4.4 km return, it's a short hike and ideal for children.
11. HIKING GEAR FOR STAC POLLAIDH
To have the best chance of a safe and successful hike, it's vital that you're well-prepared and well-equipped. This is true for both yourself and your kids. Do not cut corners when it comes to kitting out your kids with appropriate hiking gear, too.
Well-fitting, water-proof hiking boots with ankle support, as well as hiking socks for comfort, make up the basis for essential hiking gear. In addition to these items, it's also important to pack the following items for a day hike:
ESSENTIAL HIKING GEAR LIST
For Adults
Map (& Compass, if you know how to use it)
Mobile Phone
Camera
Nutritious snacks
For Kids
Trekking or Nordic Walking poles
Nutritious snacks
ESSENTIAL HIKING CLOTHING
For Adults
Hiking boots with ankle support
Rain jacket & rain trousers
Sun hat
For Kids
Hiking boots with ankle support
Hiking trousers
Rain trousers
Sun hat
By packing these essential items, you'll be well-prepared for your hike and have the best chance of a safe and successful trip.
12. FINAL WORDS
Hiking Stac Pollaidh was truly an unforgettable experience. The clear, blue skies and stunning panoramic views stretched out for miles, taking our breath away. The challenge of trying to reach the True Summit added an extra layer of excitement and adrenaline to our hike, and also tested my abilities as a parent and decision-maker to their limits.

Despite the challenges, I made the right choice that kept us safe, but also allowed me to grow as an "adventure leader" for my family. The experience pushed me out of my comfort zone and I learned and grew from it. This is why I love the opportunity to go on solo adventures with my children – it allows us both to grow and develop together.

Stac Pollaidh is an excellent mountain to hike with children. It offers a short and relatively easy hike, but rewards you with breathtaking views on a clear day. If you're planning a trip to Scotland, make sure to include a hike up Stac Pollaidh on your list of must-see destinations.

Happy Hiking!
---
Related Posts
You Might Also Like
---