This article may contain affiliate links. For full information, please see our disclosure here.
Are you planning your first family camping trip or are you already a seasoned camper? Whatever your circumstances, with the right camping equipment, you're poised to have an amazing time.
Camping with kids is great fun for both parents and children alike! Our kids love being free in nature all day long – we call them free-range kids when we camp.
When we took our kids camping for the first time, my youngest was only 15 months old. I had never camped before, so I didn't even know where to start. SIMs and berths, sleeping bags and mats, ground sheets and camping stoves were all foreign to me.
Fortunately, my wonderful friend, who had organized the 60-family camping trip that we planned to join, guided me towards essential camping gear, and the rest came with a lot of research.
My initial camping packing list was handwritten on an A3 sheet of paper back in 2014, but it has evolved since then.
I do not pack light; I prefer having camping essentials and some not-so-essential items on hand for safety and comfort. Hence, you can modify this family camping checklist to suit your needs and only bring what you need (and want!).
Since our first camping trip, we have gone camping 2-4 times a year all over England, Scotland and Wales. However, our camping experiences in Scotland deserve a whole other blog post!
TABLE OF CONTENTS
Camping Essentials – Tent & Bedding
Camp Kitchen
Camping Food
Other Camping Essentials
Kids Camping Gear
Mini First Aid Kit
Camping Toiletry Bag
Camping Clothes
Camping Hacks
Camping Essentials –
Tent & Bedding
Tent, Ground Sheet & Tent Carpet
A lot of time and effort is spent on finding the right tent for camping, and rightfully so! There's a lot to consider, from budget and brand, to size and layout, weight and features, and everything in between.

We first bought a Vango Icarus 500DLX as our family tent and subsequently purchased a Vango Beta 450XL Family Tent for (wild) camping in Scotland. (By the way, I don't recommend this tent size for wild camping – get something smaller!) The Vango Odyssey 500 Family Tent is very similar to the Vango Icarus 500DLX.

While the smaller Vango Beta 450XL Family Tent is quicker to set up, you can't stand upright in it as the ceiling height is a maximum of 155cm. However, it's great for solo adventures with kids as you can pitch it on your own with their help.

If you have the car space (and another pair of helping hands), however, I recommend to get as big a tent that you can afford, especially if you are planning to undertake multi-day camping trips a few times a year.

A ground sheet is important because it is designed to protect against small tears and holes from stones and rough, uneven ground and thus will prolong the life of your tent. It will also protect your tent from dirt and mud on those rainy camping days.

Finally, if you are after some luxury, a tent carpet will provide just that.

Great brands to look out for are Vango and Outwell.
Top Tip: When deciding about your tent size, go for "number of people + 1". The extra space will prevent you from feeling packed like sardines as well as allow you to store your camping clothes in one corner of the sleeping area.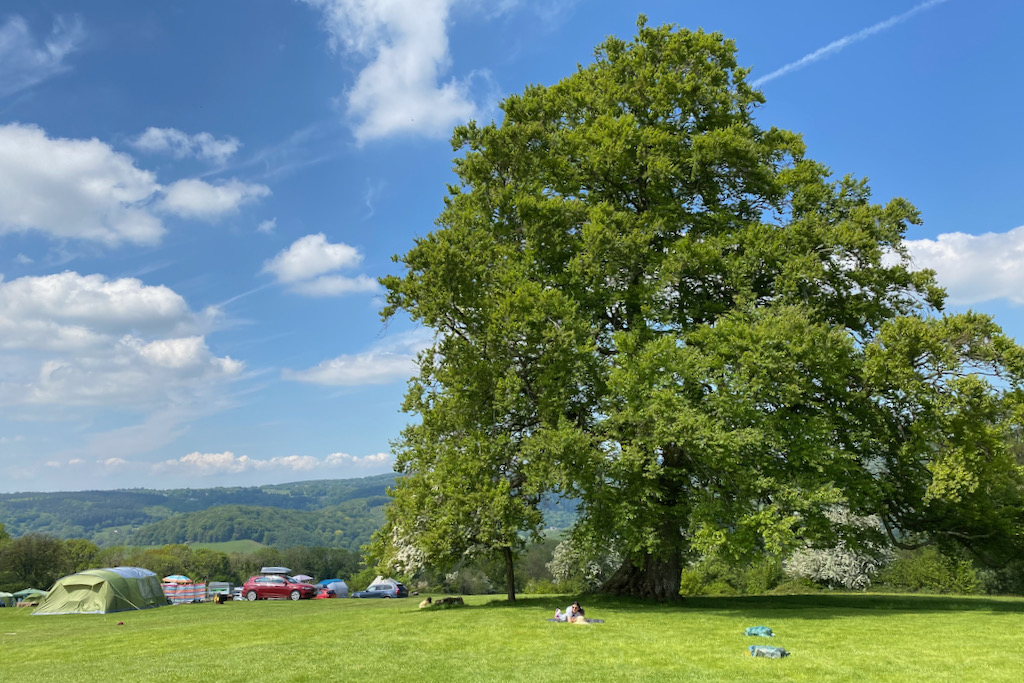 Mallet to hammer in the tent pegs


Camping Sleeping Mats
What to sleep on when camping? For me, that was one of the most confusing things to figure out.

While there are camp beds, air beds, foam insulating mats and self-inflating mats (SIM's), we opted for the latter.

I like it quite firm, but if you're a "soft sleeper" an air bed might be the right option for you.

Since I only have experience with self-inflating camping mats, here's what to look out for when purchasing one.

Thickness:
The thicker, the more comfortable. I recommend a 7 to 10cm self-inflating mattress. Anything thinner than 5cm will provide less comfort and you are more likely to feel the cold if you opt for a non-insulating mat.

Insulating or non-insulating:
An insulating self-inflating mat will keep you warmer but you may not need this feature if you only camp during the warmer summer months. These are also more expensive.

Size:
The sizes of camp sleeping mats seem to range from about 50 – 76cm for a single mat. While a wider camping mat sounds more comfortable and hence tempting, you'll need to consider whether it will actually fit into your tent. Tent manufacturers usually allocate 60cm per person. Hence, if you have a 4-person tent that you plan to use with 4 people, for example, you will not be able to fit in four camping sleeping mats measuring 75cm each.

As well as single, you can also get double self-inflating mattresses. Although a double sleeping mat sounds intriguing for family camping, folding them up again and storing them in the car for transportation is a whole other story. Hence, I recommend single self-inflating mats.

We currently have self-inflating mats similar to this one from Vango, but it takes a lot of space in the car once rolled up. Hence, when the time comes to upgrade them, I'll be looking at some that roll up smaller, such as this one.
Camping Hack: In order to prevent camping sleeping mats from sliding out from under the sleeping bags, pop a fitted sheet over them; 2 sleeping mats under one fitted sheet. It works great! This will also help keep your sleeping bags clean.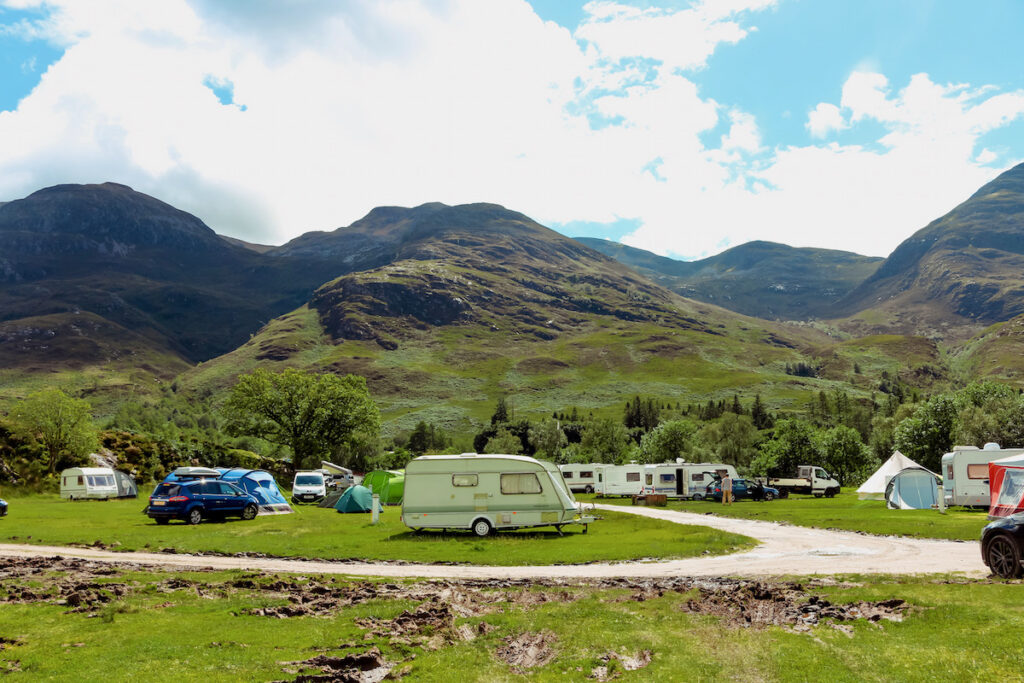 Camping Sleeping Bags
When it comes to sleeping bags, there's a huge choice in regards to budget and functionality.

You can opt for down or synthetic sleeping bags, as well as mummy-shaped or rectangular sleeping bags, and single and double sleeping bags and not to forget the sleeping bag tog rating (thickness/warmth).

My criteria when researching sleeping bags a few years ago was as follows:

100%-cotton lining (for feel and comfort)
Rectangular sleeping bag
Sleeping bags that can be attached to convert 2 single sleeping bags into a double sleeping bag
3-season sleeping bag (meaning, that they are appropriate for camping during the spring, summer and autumn seasons. A 4-season sleeping bag would also include winter camping.)
There aren't many cotton sleeping bags out there but I've found some from Outwell.
Although I've only ever tested these sleeping bags, our Outwell Constellation Lux Double must be the best double sleeping bag out there in regards to comfort, warmth and size.
Pro Tip: Since the Outwell Constellation Lux Double Sleeping Bag is 160cm wide (i.e. 10cm wider than a UK King Size mattress!), make sure that your chosen sleeping mats cover the entire sleeping bag surface. I use three self-inflating sleeping mats under our Outwell Constellation Lux Double Sleeping Bag.
All of these sleeping bags can be made into singles or doubles respectively. When camping with children, having the flexibility of single and double sleeping bags is a great bonus, especially when co-sleeping.
When I camped in the Cairngorms National Park in Scotland with my children, all three of us crawled into the Outwell Constellation Lux Double sleeping bag and we still had room to spare! The night temperatures plummeted to 2-3 degrees Celsius and I hadn't packed thermals (for camping in August!). I've definitely learned a lesson there!
Pro Tip: If you're preparing for your first camping trip and aren't sure yet whether you'll be camping again in the future, you don't need to splurge out on camp bedding just yet. Instead, take foam mats, an (old) duvet as a mattress and your own duvets and pillows from home. This is what we did for the first couple of years of our camping journey.
Camping Pillow
The sleeping bags mentioned above feature in-built pillows. However, these are quite flat, hence I also take my own pillow with me. Alternatively, inflatable camping pillows will be a good option as well as non-inflatable ones. I've selected a view below but I haven't tried them myself yet.
Camping Hack: A rolled-up towel makes a great pillow, too.
Hot water bottle
If you feel the cold, or camp during the colder seasons, a hot water bottle will be crucial to get a good night's sleep. We learned the hard way (after our 2-3 degrees Celsius camping experience in Scotland) and do now take a couple of natural rubber hot water bottles with us if the night temperatures are expected to drop below 10 degrees Celsius. Ideally, you would have one hot water bottle per sleeping bag.
CAMP KITCHEN
If you are a foodie like me then you'll want to take your whole kitchen with you. Since sadly, that isn't practical, I've instead listed all the camping cooking equipment you'll ever need.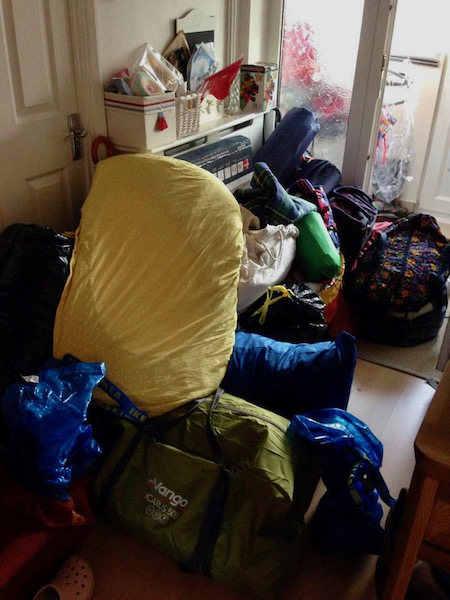 Remember, that a lot of the kitchen items to take for camping will already exist in your home. You don't need to splurge out and buy a whole new set of cooking utensils just for camping. Prioritise now and add to your camping gear as the years go by. I still take an old set of stoneware plates, bowls and mugs with me until I invest in some good-quality stainless steel ones in due course. The ones I've linked below are the ones I've short-listed for myself.
Note: Using non-toxic food and drink containers is important for me; both for health and environmental reasons. Therefore, I prefer stainless steel cooking equipment as opposed to aluminium and/or teflon-coated ones. All the cooking equipment recommended in this section is stainless steel.
Gazebo
A gazebo will come in very handy on rainy days, so that you have a shelter under which to prepare meals. It'll also provide a dry place to gather as opposed to trying to entertain yourselves in a tent. We have used this gazebo for a few years until very strong winds unfortunately destroyed it last year.
Camping Chairs
Comfortable camping chairs will make all the difference on your camping trip. At first, we had some simple folding camping chairs which we subsequently upgraded to also feature headrests. The long evenings around camp fires have become that much more comfortable ever since we invested in some Vango Camping Chairs.

Whichever chairs you choose, you won't regret investing in some with a headrest as they simply are the best camping chairs in regards to comfort.

Taking some kids camping chairs for young children will foster their independence as they'll be able to get on and off them by themselves. We had these for our children until they outgrew them.
Camping Table
A camping table is essential for preparing and cooking food on. If you don't have a camping table, you'll need to find another surface to safely place your camping stove on.

I have a Vango 100cm camping table which isn't manufactured anymore. Hence, I recommend the slightly larger Vango Birch 120cm Table instead. If you are looking for a smaller table, the Vango Granite Duo 60cm Table will fit the bill.
Camping Stove & Fuel
A single portable gas stove will usually suffice for your camping needs. If you want the luxury of being able to cook two dishes at the same time, however, a double camping stove will be the way to go. We used the single camp stove listed below for the first 9 years of our camping adventures and have just upgraded to a double stove. Don't forget to purchase the appropriate fuel for your camping stove.
Camping BBQ or Campfire Grill
Campfire cooking is the reason for me to go camping. That, and sitting around the campfire at night. While some campsites provide fire pits that you can also cook on, others only allow "BBQ's off the ground". So, check before you book a campsite.

Depending on the campsite, we either take a portable BBQ or a campfire grill with us. If open fires are allowed or a fire pit is provided by the campsite, a camp grill provides a great "real camping experience". It also requires less space in the car.
Cool box or Cool Bag & Freezer Blocks
We use the below cool box as well as a cool bag. While the electric cool box was a good camping gadget for our 6-week road trip through the Scottish Highlands, unless you have electric hook-up at the camp site, you won't need it. Instead, I recommend a cool bag which is lighter as well as collapsible when empty.
Chopping Board & Small Kitchen Knife


Colander


Veg Peeler


Bottle Opener


Big Bowl (for salads, etc.)


Collapsible Water Carrier; indispensable for hand-washing, cooking & boiling water for hot drinks.


Washing-Up Bowl, Washing-Up Liquid & Sponge or Scourers


Tea Towel


Kitchen Rolls


Paper Sandwich Bags


Bin Bags


Scissors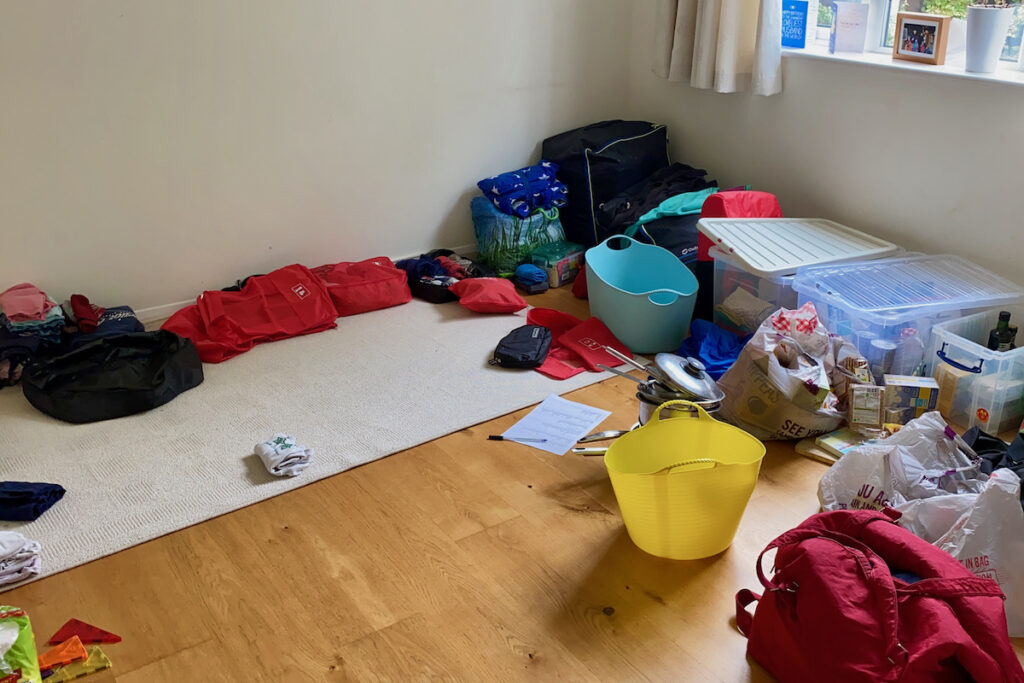 CAMPING FOOD
Deciding what foods to take for camping can become a project in itself. I prefer easy camping meals.

We usually have scrambled eggs, baked beans, sourdough bread, butter and cheese for breakfast; a home-cooked curry or stew or sandwiches for lunch; and finally a barbecue for dinner. While I enjoy preparing camping breakfasts and dinners, I prefer to have something quick for lunch. Hence, I usually make a curry or a stew at home and take it along.
My camping food list looks as follows:
Home-Made Camp Fire Marshmallows; the yummiest marshmallows ever!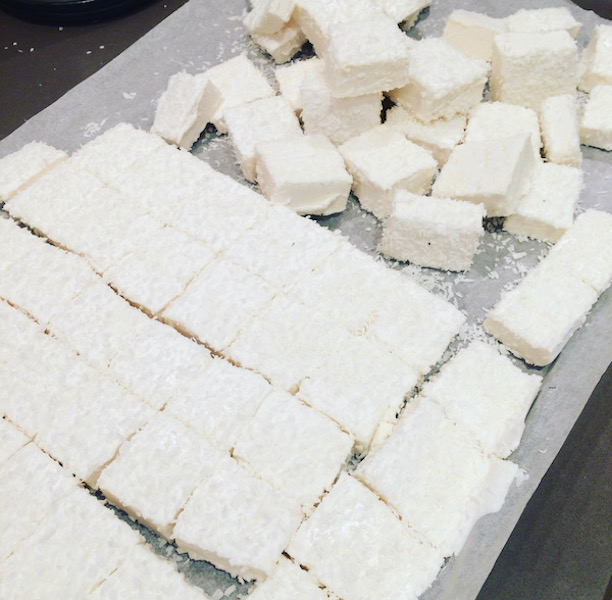 Home-Made Lamb Burgers


Barbecue Meat


Halloumi Cheese
Pasta & Pesto Sauce for emergencies; or for dinner on the first night or lunch on the last day.


Fruit


Salad Vegetables such as tomatoes, cucumbers, carrots, onions


Herbal Salt; delicious for all sorts of seasoning; especially in salads and stews.


Ketchup


Snacks for Kids


Bread


Eggs


Baked Beans


Butter


Cheese


Coconut oil


Olive oil


Vinegar


Lemons


Olives


Hummous


Water


Teabags


Milk


Watermelon; amazingly refreshing in the summer (provided you've got the car space, that is! We once had to leave a watermelon behind due to lack of space!)

Camping Hack: Pack frozen milk, juice cartons, butter, meat and home-cooked meals! That way, they'll keep for longer as they slowly thaw in time for when you need them. They'll also act as "ice blocks" and hence save space in your cool bag or box.
Other Camping Essentials
These other necessary things for camping will ensure safety and comfort.
Camping Lantern for late-night food preparation as well as to light up the inside of the tent


Torch for night-time visits to the toilet


Batteries


Matches or lighter


Dustpan & Brush to sweep up all the grass, dust and dead insects (!) before taking down and packing up your tent after camping
KIDS CAMPING GEAR
While kids won't require any "entertainment" when camping, as their surroundings in nature will inevitably be entertaining enough; packing some of the items below will definitely make their camping experience that much more exciting!
Head Torch for exploring the campsite at dusk and for toilet trips at night


Walkie-Talkies for playing with! These also come in handy when you allow your kids more freedom while camping and need to gather them again for meal times. We love the Motorola walkie-talkies below as they come in a pack of 3 (ideal if you have two kids!) and with a range of up to 4km.


Fire Starter Set for starting a fire from scratch – who wouldn't love this?! I've got this fire starter set for my son's 8th birthday and he loves it.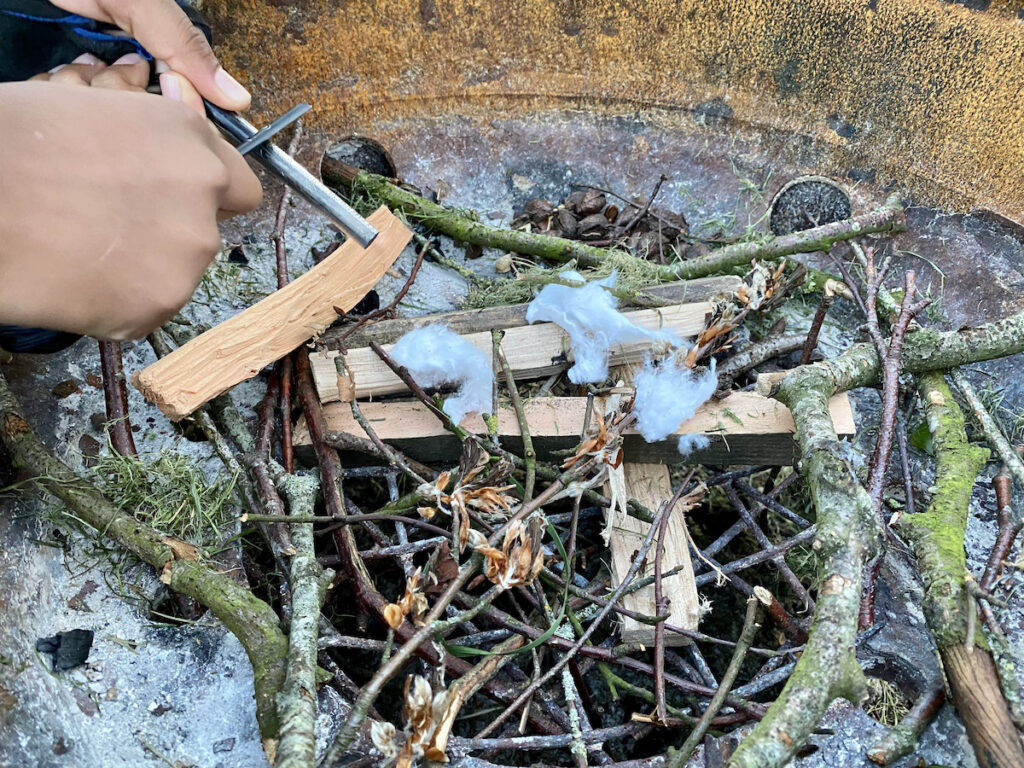 Cards or Travel Games


Football/volleyball, badminton set, frisbee and other fun family games
Optional Camping Gadgets
While some of these camping gadgets will be optional for many, they may be essential for some campers. So, pick and choose what you need but don't overpack!

Whether you need a solar charger or a power bank for camping will ultimately depend on your preferences and priorities. While some camp sites provide electric hook-ups, others provide a "mobile phone charging service", while still others are completely off the grid.
When we go camping, it's all about connecting with nature, enjoying a slower pace, the delicious BBQ's and the amazing company around the campfire. Like most people, I use my phone to take pictures so I prefer to be able to charge it on camping trips. When my husband joins us on a camping trip, these are the items he'll pack.
MINI FIRST AID KIT
Admittedly, I take a comprehensive Natural First Aid Kit with me when we go camping. Not least because I like to be prepared… just in case.
Anecdote: A few years ago, when we went camping with our wonderful school community, a parent needed some steri-strips at 1am at night (while we were all sitting around the hypnotising campfire). And guess what, I had some handy! 🙂
Avoiding toxins and using natural ingredients is an integral part of our lives.
All the products recommended on this website are either 100% certified-natural and/or toxin-free to the best of my knowledge (or unless stated otherwise). I only recommend products that we use ourselves and truly believe in.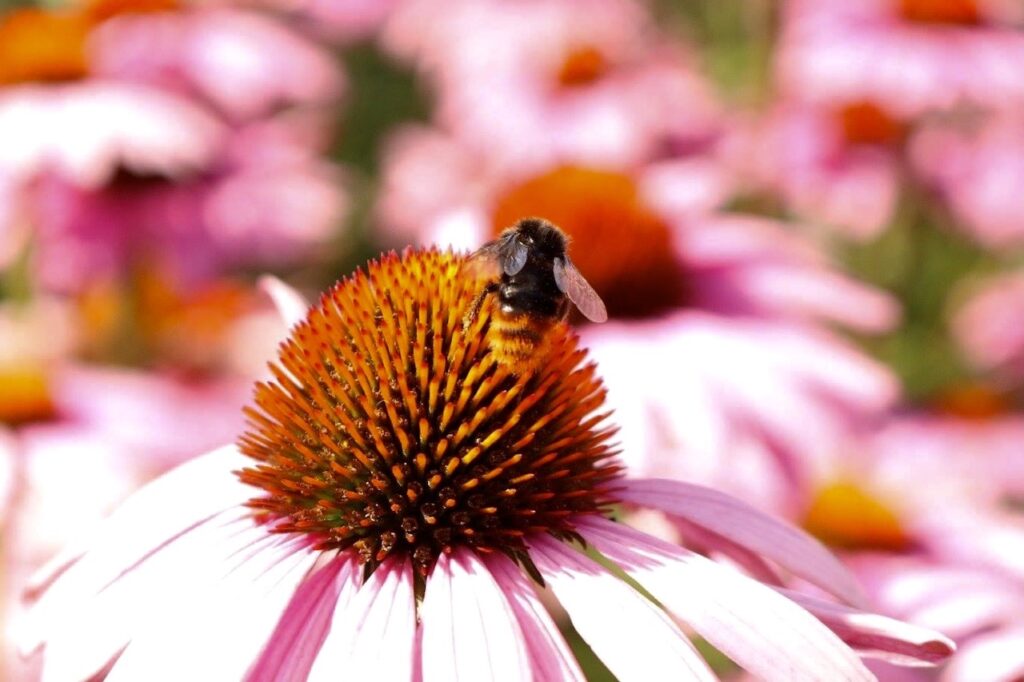 Disclaimer: I am not a doctor or a healthcare professional. The recommendations below are purely based on my knowledge and experience. As with all medicines, it's vital to always read the leaflet/label. Always seek medical advice.
Arnica Bumps and Bruises Skin Salve
A traditional herbal medicinal product used for the symptomatic relief of sprains and bruises.
This salve is our most-used medicine in our kit. Kids are kids and accidents will happen (as they will also to adults) – and that's OK – but having something to soothe a bump or a bruise is very helpful.
Arnica Bumps and Bruises Spray
A first aid essential for bumps and bruises, stiff muscles and minor sports injuries. Safe for everyone to use. This spray comes in very handy for bumps to the head where it is difficult to apply the salve mentioned above.
HyperCal Wound Salve
A traditional herbal medicinal product used for the relief of painful cuts and minor wounds. 

If you want to get only one salve for cuts & wounds, I recommend the HyperCal Wound Salve as it's also great for painful wounds.
Combudoron Ointment
Traditionally used to relieve minor burns and scalds. We also use this for nettle stings or similar.
Insect Bites Spray
Traditionally used to reduce irritation and swelling after insect bites. Although it's hard to prevent insect bites, once you have been bitten, this spray comes in very handy. It was our saviour during our road trip to the Scottish Highlands during midges season.
Ruta Ointment
An Anthroposophic medicine for the symptomatic relief of sprains.
Copper Ointment
An Anthroposophic medicine for the symptomatic relief of muscular pain and cramps.
Insect Repellents
We only use 100% natural insect repellents. During our road trip through the Scottish Highlands, I have used 3 different insect repellents – amongst them were A. Vogel and Incognito – that worked to some effect. However, midges are a whole other thing when it comes to insect repellents, and while none of them worked perfectly against midges, some worked somewhat. As a tick repellent, we have found Mosiguard effective.
Small scissors to cut plasters or clothing if necessary.
Alcohol-free wipes to clean cuts and grazes. (Alcohol-free is important so they won't sting.)
Colloidal Silver Spray has many great uses. Amongst others, we use it as a hand sanitiser as it has anti-bacterial and anti-viral properties.
Homeopathy Kit for emergencies. Always seek advice from a healthcare practitioner. I have a couple of kits from Helios.
CAMPING TOILETRY BAG
Likewise, all the products I recommend in this section are 100% certified-natural (unless stated otherwise) to the best of my knowledge.
If you are unsure about natural skin and body care products, simply look out for the NaTrue certification on the packaging – you can find a list of 100% certified-natural products on NaTrue's website.
Toilet Rolls


Tooth Brushes


Dental Floss


Shampoo I love using the kids' shampoo & body wash.


Sun Cream: For health & environmental reasons, we prefer non-nano (as opposed to nano) sized particles of the active ingredient zinc oxide in our sun cream. We also use a face stick for easier application on the face.
Cotton Buds


Tissues


Bio-Degradable Wet Wipes


Sanitary Products


Hair Brush


Hair Bands


Hairdryer (yes, I do take my own hairdryer with me!)


Bath Towels


Hand Towels
CAMPING CLOTHES
(PER PERSON)
During the spring, summer and early autumn seasons, our camping packing checklist consists of:

Short-Sleeve Tops


Long-Sleeve Tops


Hoodies


Shorts


Trousers


Dresses


Underwear


Thermals (at least for the kids)


Pyjamas


Vests


Socks


Sun Hat


Rain Coat


Trainers


Crocs (or Flip Flops) for ease of use when entering the tent all the time


Wellies for when you aren't that lucky with the weather forecast
CAMPING HACKS
Pack Frozen Food:
Store all the freezable food items; such as milk, juice cartons, meat and home-cooked meals; in the freezer ahead of your camping trip. Just before leaving for your camping trip, place them straight into your cool box or cool bag. That way, they'll keep for longer as they slowly thaw in time for when you need them. They'll also act as "ice blocks" and hence save space in your cool bag or box.
Transparent Box for Food Storage:
Packing food items into a large transparent box will make it easier to find things rather than having to rummage through bags all the time. This way, you can also store the box under the camp table for ease of access.
A rolled-up towel makes a great camping pillow!
Pee Bottle for Little Boys:
Rather than having to leave the tent in the middle of the night, you can simply use an empty bottle for little boys. Just make sure though that you screw the lid very tightly afterwards and store it away from your other bottles of water.


Door Mat for Tent Entrance:
Having a little door mat will keep your tent cleaner, even if you do take your shoes off before entering the tent. Although we do take our shoes off, we store them in one corner of the tent overnight, so some dirt still gets in inevitably.


Fitted Sheets for Sleeping Mats:
In order to prevent camping sleeping mats from sliding out from under the sleeping bags, pop a fitted sheet over them; 2 sleeping mats under one fitted sheet. This will also keep your sleeping bags clean.


Hot Water Bottle:
Having a hot water bottle will be a saviour for those cold camping nights. I usually pack a couple of hot water bottles if the night temperatures are expected to drop below 10 degrees Celsius. This made all the difference when we once camped in early May where the night temperatures plummeted to 3-4 degrees Celsius. We were all toasty warm all night long.


Pack a dustpan & brush to sweep up all the grass, dust (and dead insects!) before taking down and packing up your tent after camping.


Bring Flip-Flops or Crocs for trips to the shower.


Bring your own toilet paper even if the campsite provides some. And bring more than you think you'll need. I don't think this point needs any more explanation… 🙂

FINAL WORDS
I hope you'll find this article useful when you prepare for your first camping trip. Or, that it will simply serve as an efficient camping checklist even for seasoned campers. Take what you need (and want!) and don't dread if you forget something. Most campsites have a little shop where you can purchase some camping essentials.
Happy Camping!
---
Related Posts
You Might Also Like
---