This article may contain affiliate links. For full information, please see our disclosure here.
Located in Snowdonia National Park in North Wales, Llyn Idwal lies within Cwm Idwal, the oldest National Nature Reserve in Wales. It has everything you'd ask for an adventurous day out: slabs for rock-climbing, a pebble shore for a dip in the lake, a scramble up Devil's Kitchen and hikes to the peaks surrounding it as well as a gentle walk around the lake itself.

This article provides information about a circular hike around Llyn Idwal to Llyn y Cwn via Devil's Kitchen, taken in a clockwise direction. The accompanying pictures will give you an idea of the difficulty of the hike, including the terrain. Whether you go on this hike with or without children, it is one of the most beautiful walks in Snowdonia National Park.
A little lesson in Welsh: "Cwm" means valley; whereas "Llyn" means lake.
TABLE OF CONTENTS
About Llyn Idwal
About Devil's Kitchen
Walking Routes around Llyn Idwal
Facts about the Hike
Is the Hike up Devil's Kitchen Dangerous?
Getting to the Start of the Hike
The Ascent – Llyn Idwal Circular to Llyn y Cwn via Devil's Kitchen
The Descent via Devil's Kitchen
Hiking Gear
Other Routes via Devil's Kitchen
Where to stay near Llyn Idwal
Final Words
About Llyn Idwal
Llyn Idwal is a lake that lies within Cwm Idwal in the Glyderau mountains of Snowdonia in Wales.
It's about 650m long and 300m wide with a depth of up to 11m while about 60% of the lake is less than 3m deep. The lake's surface elevation lies at 373m.

When you first visit Llyn Idwal in Snowdonia, it's like stepping into a magical wonderland. How can such a small lake be the setting for some of the most dramatic mountainous scenery in the UK? Tectonic movements as well as volcanic activity, and finally, much more recently, the last Ice Age bear the answers for that.

There are few tales about how the lake obtained its name. One legend has it that Idwal was the son of the 12th century prince Owain Gwynedd who tragically drowned in the lake as his bitter uncle, Nefydd, pushed him in. In another version of the tale, Idwal is an eighth-century prince, the son of Cadwaladr, who suffered a similar fate.

Can you swim in Llyn Idwal? Yes, you can. There's a pebble beach on the northern end which is the best place to swim from.
About Devil's Kitchen
The Devil's Kitchen gets its name from a sinister plume of steam that can be seen rising from a crack in the crags. This is actually due to moist air coming into contact with the rock face, which forces it upwards where it condenses to form swirling clouds. It is said that the Devil beckons weary travellers into his kitchen, and they are never seen again, and that birds do not fly above Llyn Idwal because of the death of the Welsh Prince. Source: Mysterious Britain
Walking routes around Llyn Idwal
There are three circular walking routes you can take around the lake:

1) Along the lake shore
2) Along the lake shore and across the boulder field below Devil's Kitchen
3) Along the lake shore and up Devil's Kitchen to Llyn y Cwn

The above map highlights the circular walk around Llyn Idwal (Option 1). In a clock-wise direction, our walk continues the path up to Devil's Kitchen and all the way to Llyn y Cwn before coming back down Devil's Kitchen and keeping left to complete the circular walk back to the starting point.
Read More: For more information on the other two routes around Llyn Idwal, see Top 20 Family Outdoor Activities in Wales.
Once you reach Llyn y Cwn, there are several options to reach other summits in the surrounding area; such as Y Garn or Glyder Fawr (and then onto Gylder Fach and Tryfan). These are outside the scope of this article.
Facts about the Hike
Starting Point: Idwal Cottage & Cwm Idwal Visitor Centre in Nant Ffrancon, Bethesda, LL57 3LZ (just off the A5)
Distance: 6.5km
Elevation Gain: 459m
Moving Time: Approx. 4 hours
Difficulty: Strenuous
Ordnance Survey Map: OS Explorer OL17 Snowdon & Conwy Valley
Appropriate footwear and the ability of easy scrambling is a must.
OS Maps App: As a backup for a physical map and compass, I also utilise the Ordnance Survey Maps app, which I highly recommend. I find it very useful, especially when precise navigation isn't always possible with kids in tow or due to low visibility. The app allows you to plan your routes, save them offline, and print them at scale, just to name a few features. You can sign up for the app by clicking the link below.
Hiking with Kids? This hike is like a big playground for kids (and adults alike!). Hence, always calculate in more time and more distance! Kids hardly ever take the "straight" route. If your kids are anything like mine, they'll climb every single boulder along the way, too. Hence, why we clocked in 16.46km in Distance and 6h 25m in Moving Time with an Elapsed Time of 7h 47m when I completed this hike with my 8-year old son!
As with any activity in the mountains, always check the weather forecast beforehand.
The Mountain Weather Forecast by the MetOffice website or app is very useful.
Llyn Idwal Circular Walk to Llyn y Cwn via Devil's Kitchen – Elevation Profile
Is the hike up Devil's Kitchen dangerous?
The path up Devil's Kitchen is steep and you will need to use your hands at times to scramble over bigger rocks and boulders. In dry conditions, it's a fun hike and easy scramble but it can become very slippery when wet. We walked up Devil's Kitchen on a dry day which would be a preferred condition for this hike. Any hike is potentially dangerous if you aren't prepared or ill-equipped.
Would I recommend hiking up Devil's Kitchen with kids in tow?
Yes, I would. Would I recommend it to anyone? No, I wouldn't.

It all depends on your and your kids' abilities as well as your confidence. Walking up the Devil's Kitchen should ideally not be your family's first hiking adventure!

So, yes, it can be dangerous if you aren't prepared. But if you are, you will have an amazing day out with the kids and be rewarded with some of the best views in Snowdonia National Park.
Getting to the Start of the Hike
To get to the start of this hike, park at the Idwal Cottage & Cwm Idwal Visitor Centre in Nant Ffrancon, Bethesda, LL57 3LZ (just off the A5). There's a pay & display car park that fills up fast. Arrive early to avoid disappointment. Cross the road to reach the Cwm Idwal Visitor Centre and follow the stone path to the left of the visitor centre.
Top Tip: If you plan to walk only around Llyn Idwal (without walking up Devil's Kitchen to Llyn y Cwn), arrive late (about 2-3 hours before sunset). You'll have the lake (and the car park!) almost to yourself.
The blue splotch above Devil's Kitchen is Llyn Y Cwn, the destination of our hike before turning back.
The Ascent – Llyn Idwal Circular to Llyn y Cwn via Devil's Kitchen
After following the stone path past the Cwm Idwal Visitor Centre, you will reach a set of six summit markers pointing out some of the highest peaks in the area; namely Tryfan (917m), Glyder Fach (994m), Glyder Fawr (1001m), Foel Goch (831m), Carnedd Y Filiast (821m) and Pen Yr Ole Wen (978m) in the Carneddau and Glyderau mountains. Peak through the viewing holes to spot each mountain.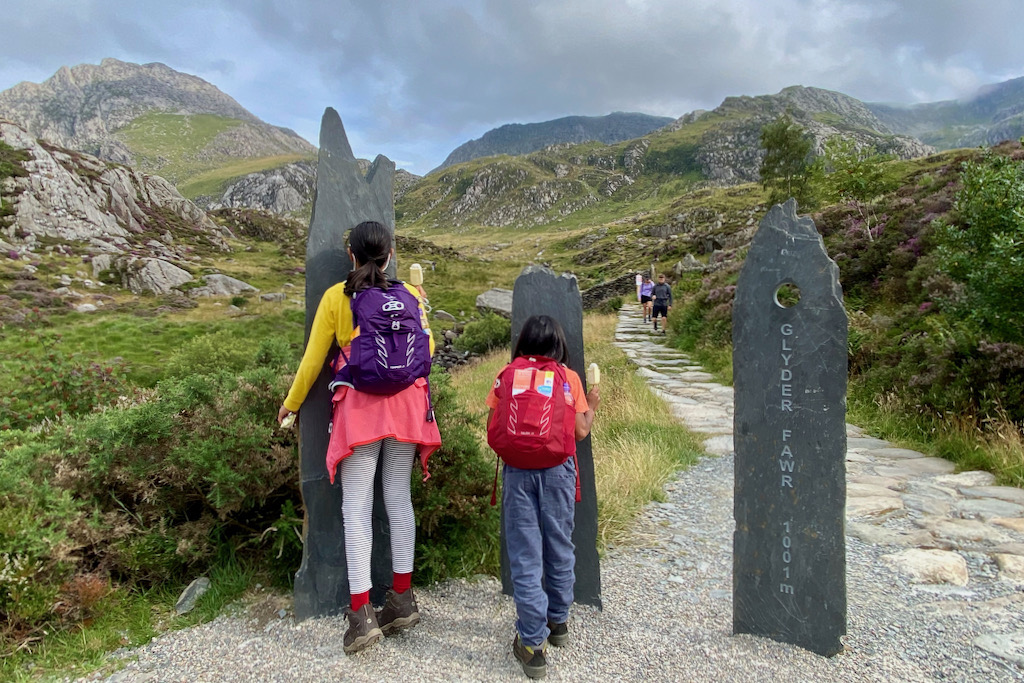 Shortly after, you'll go through a gate and cross an oak bridge over a stream.
Look to your left to admire majestic Tryfan with its "dragon back", as it is also nicknamed.
After about 500m, you'll arrive at a junction. Take the right fork along the more formal stone-surfaced path and follow for another 500m to the lake.
After about 20-30 minutes, you will reach the shores of Llyn Idwal with a bridge to your right. Do not cross the bridge as we will turn left instead to walk the route in a clock-wise direction. We have completed this walk in both directions and found that the clock-wise route was easier to follow at getting across the boulder field below Devil's Kitchen.
Keep left and follow the path towards the Idwal Slabs ahead.
The Idwal Slabs were a training ground for many pioneering mountaineers including Everest conqueror Edmund Hillary and his Welsh team mate Charles Evans. Why not have a little break here to watch rock climbers?
A lesson in botany: Have you heard of bilberries? Bilberries are very similar to blueberries, so the two are often confused. Bilberries are native to Europe, whereas blueberries are native to North America. They grow in Northern Europe and are edible. Source: www.healthline.com
My son also found another use for bilberries, i.e. making bilberry paint for mark-making by squashing them between two stones. There's never a dull moment with this kid!
Disclaimer: Do not eat any wild berries if you're not 100% sure what they are.
Shortly after passing the Idwal Slabs, you'll cross a bridge over a waterfall. Keep following the path which will lead to the boulder field below Devil's Kitchen.
Once you reach the boulder field, you'll get this amazing view across Llyn Idwal and to Pen Yr Ole Wen in the distance. Here, you have two options: 1) Walk down towards the lake to complete the circular walk in a clock-wise direction. 2) Head up through Devil's Kitchen to reach Llyn y Cwn. Take the 2nd option and head up!
At times you need to use your hands to scramble over bigger rocks or boulders. This is the fun part of the hike; at least on a dry day!
Meeting a legend: The highlight of our hike was bumping into Megan Hine (Adventure TV producer, Survival Consultant and Author) who is lucky enough to call Snowdonia "home".

I was aware that she was in Snowdonia at the time; secretly, I was hoping to bump into her…somewhere, somehow.

I couldn't believe my eyes when she suddenly came walking down Devil's Kitchen with a friend in tow while my son and I were scrambling around trying to figure out how far up we could go. After introducing myself (we had a few Instragram exchanges in the past), we chatted for a while about the breath-taking area; her audiobook that my kids and I have listened to and absolutely loved; as well as her upcoming project the following month.

She was simply wonderful: approachable, genuine and down to Earth.

If you haven't read Megan Hine's book "Mind of a Survivor" or listened to her audiobook yet – do it! It's brilliant. It's also great for kids as it's very inspirational, especially coming from a woman as a role model (whom we need more of!).
Top Tip: Sign up for a FREE 30-day trial with Audible here.
At this point in our hike, we had only intended to do a circular walk around Llyn Idwal across the boulder field. I didn't know that you could walk up Devil's Kitchen and on to Llyn y Cwn. Megan enlightened us that there was "a lake up there" and that there was indeed a path through Devil's Kitchen to reach it. So, up we went and the rest is documented in this article.
Once you reach the top of Devil's Kitchen, follow the short stone path to the shores of Llyn y Cwn ahead of you. On your right, you'll spot Y Garn in the distance.
Congratulations! You made it to Llyn y Cwn. Now, enjoy the views and try not to be swept away by the winds.
Important Note: The weather can turn very quickly in the mountains. Therefore, it's of vital importance to always pack water-proofs as well as a map (and a compass if you know how to use it).
Once we reached Llyn y Cwn, my son declared that he wanted to also "hike up that mountain" pointing to Glyder Fawr on the left. I decided that we would save that for another day, however, as the weather was turning and we weren't prepared for a full-day hike with sufficient provisions. I'm all for adventuring and exploring new routes or mountains – even spontaneously – but safety is always my no. 1 priority. So on that day, it was the right decision for us. The mountains will always be there for us to return to…
The Descent via Devil's Kitchen
Retrace your steps via the stone path to the start of Devil's Kitchen for the descent.
The summit of Pen Yr Ole Wen was covered in clouds when we started our descent through Devil's Kitchen whereas we had blue skies while coming up.
Climb over the stile and follow the path to the left. Take extra care in wet conditions as the rocks will be slippery.
At times, you might need to stop and think where to go next since a stone path within rocks and boulders isn't always easy to make out. The aim is to get through the boulder field and join the path to the left of the lake.
The final scramble over rocks and boulders in the boulder field before reaching some stone steps. In wet conditions, these rocks can be very slippery.
Looking back up to where we came from through the boulder field.
The views across Llyn Idwal are the most amazing from this spot; especially if you're lucky with the weather. Take a moment here to take it all in.
Finally, you hit flatter ground again to make your way around Llyn Idwal to complete your circular walk.
Look back to admire the Idwal Slabs and the waterfall from this angle.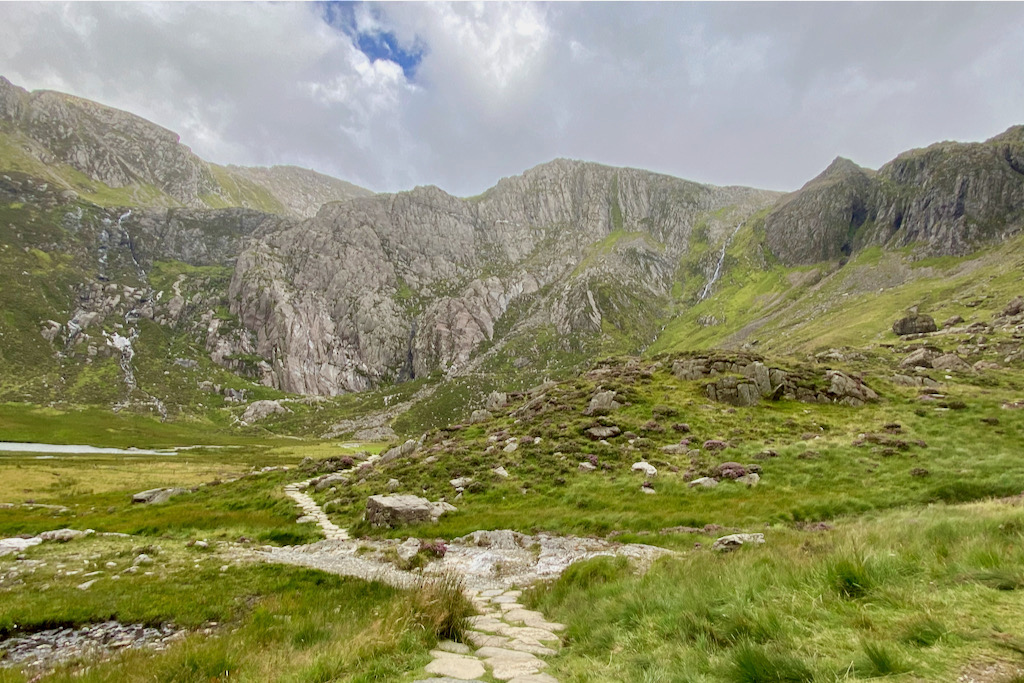 That's the Devil's Kitchen right there!
As I highlighted above, Llyn Idwal is a playground for kids and adults alike. That's why you'll need to calculate in way more time with kids in tow. You can't simply rush around the lake. It's a half-day activity without hiking up Devil's Kitchen to Llyn y Cwn; and an almost full-day activity if you do. So, take your time and enjoy the journey (not just the destination).
If you're brave enough (or if don't mind getting your hiking boots potentially soaked in the lake), walk across the stepping stones onto the little island on Llyn Idwal.
Finally, you'll reach the pebble beach on Llyn Idwal's northern shore. Again, if you're brave enough, take a refreshing dip here and enjoy the views!
Complete your circular walk around Llyn Idwal and head back to the car park at the Cwm Idwal Visitor Centre.
Hiking gear for Devil's Kitchen
For the best chance to experience a safe and successful hike, it's vital that you're well-prepared as well as well-equipped. This is true for both; yourself and your kids. Do not cut corners when it comes to kitting out your kids with appropriate hiking gear, too.

Well-fitting and water-proof hiking boots with ankle support as well as hiking socks for comfort make up the basis for essential hiking gear. See the list below for our full packing list for a day hike.
Essential Hiking Gear List
For Adults
Dry bag
Trekking or Nordic Walking poles
Map (& Compass, if you know how to use it)
Whistle
Mobile Phone
Camera
Nutritious snacks
For Kids
Dry bag
Trekking or Nordic Walking poles
Whistle
Nutritious snacks
Essential Hiking Clothing
For Adults
Hiking boots with ankle support
Rain jacket & rain trousers
Sun hat
For Kids
Hiking boots with ankle support
Hiking trousers
Rain trousers
Sun hat
Other routes via Devil's Kitchen
There are several other routes from Devil's Kitchen to nearby peaks. Once you reach Llyn y Cwn, you can continue your hike to Y Garn to your right or Glyder Fawr to your left. From Glyder Fawr, you can then follow on to Glyder Fach and Tryfan before heading back down to Cwm Idwal.
Where to stay near Llyn Idwal
We stayed at a campsite since we were hiring a motorhome. There are plenty of campsites near Llyn Idwal for all camping types (tent, motorhome/campervan, caravan, etc.). The Gwen Gof Isaf campsite is a great base to explore this part of Snowdonia. It is conveniently located off the A5 less than 3km down the road from Llyn Idwal and boasts clean toilet & shower facilities as well as a freshwater refill station. There's no electric hook-up available at this campsite.
Final Words
Visiting Llyn Idwal is a must-do when you're in Snowdonia. And hiking up Devil's Kitchen to Llyn y Cwn is the cherry (a big cherry!) on the cake. If you only have one day to spend in Snowdonia, I recommend this hike. The views you are rewarded with across Cwm Idwal and the towering mountains are utterly stunning. And with a little bit of very easy scrambling added in, it makes for an amazing, adventurous day out for everyone!

This was our final day in Snowdonia during our two-week stay there. And what an amazing way to conclude it! Not only did we re-visit the most stunning Llyn Idwal that holds a special place in my heart (since we had first, literally, stumbled upon it four years ago) but we also hiked up Devil's Kitchen and discovered Llyn y Cwn. And to top it all off, we even bumped into a legend. A legend named Megan Hine that I want my kids to look up to and learn from. This hike was a special mother & son hike which we'll cherish forever.

Happy adventuring!
---
Related Posts
You Might Also Like
---