This article may contain affiliate links. For full information, please see our disclosure here.
Located in Snowdonia National Park in North Wales, Snowdon is the highest mountain in Wales & England, at an elevation of 1,085 metres above sea level. It is the busiest mountain in the United Kingdom with almost 600,000 walkers in 2019. It is designated as a national nature reserve for its rare flora and fauna.

There are several routes up Snowdon ("Yr Wyddfa" in Welsh) – eight in total – hence, it can be tricky to choose the right one. This article features the Watkin Path and how to scale it safely with children in tow.
About the Watkin Path
The Watkin Path is said to be the most demanding route direct to the summit of Snowdon, since it starts at the lowest elevation of any of the main routes and has the steepest overall gradient.

The Snowdon Watkin Path was first conceived by Sir Edward Watkin, Liberal Member of Parliament and a railway entrepreneur; and was originally designed as a donkey track. Officially opened in 1892 by William Gladstone, the Prime Minister, on a boulder by the path which has been named Gladstone Rock, after him, where he addressed a crowd of over 2,000 people.
Facts about the Hike
Starting Point: Pont Bethania Car Park, Nant Gwynant, LL55 4NR (off the A498)
Distance: 17.72km (officially only 13km; there and back)
Elevation Gain: 1,233m
Moving Time: 6h
Elapsed Time: 10h
Difficulty: Strenuous
Ordnance Survey Map: OS Explorer OL17 Snowdon & Conwy Valley

As with any activity in the mountains, always check the weather forecast.
The Mountain Weather Forecast by the MetOffice website or app is very useful.
Snowdon Watkin Path – Elevation Profile
Why we chose the Watkin Path up Snowdon
After studying the different routes, I decided that I didn't want to settle for the easiest one as it didn't sound as challenging or picturesque. (That's the adventurer in me!) This caused a dilemma as now I had to find a route that was challenging and picturesque, yet safe to be tackled solo with two kids in tow. My children were 11 & 8 years old at the time of our hike.

I finally sought advice from a trusted mountaineer who suggested the Watkin Path to us. He believed that we would indeed be capable to accomplish this feat. Sometimes it just takes one person (and their expertise) to believe in you … et al. So, the Watkin Path it was!
Is the Watkin Path dangerous?
The Watkin Path is said to be the hardest path up Snowdon after the Crib Goch ridge walk.

Yes, it is hard, it is steep. There's loose scree at places and you also need to use your hands on the upper section to scramble across bigger rocks. But we didn't find it dangerous as some accounts describe it.

Any mountain (or activity, for that matter) is potentially dangerous if you aren't prepared or ill-equipped.
Would I recommend hiking the Watkin Path with kids in tow?
Yes, I would. Would I recommend it to anyone? No, I wouldn't.

It all depends on your and your kids' abilities as well as your confidence. Walking up Snowdon via the Watkin Path should certainly not be your family's first hiking adventure!

My biggest concern was whether I would be able to hike it safely on my own with two kids in tow. Attempting it yourself is one thing; but attempting it on your own with two kids in tow is a whole other challenge. Hence why I sought advice from a trusted mountaineer as I wasn't able to gather this insight myself by trawling guide books and the web.

We saw people on the path with the wrong footwear (i.e. in trainers, Crocs or even sandals); with no or little water or food; carrying water bottles in a plastic bag; elderly people and young children who were already utterly exhausted one quarter way up; and some who didn't even know where the summit was or where they were supposed to go.

I did fear for their safety and managed to convince a late-starting Croc-wearer not to attempt to reach the summit.

So, yes, it can be dangerous if you're not prepared. But if you are, you will have an amazing day out with the kids and experience a great adventure.
Getting to the Start of the Hike
To get to the start of the Snowdon Watkin Path hike, park at the Pont Bethania Car Park in Nant Gwynant, LL55 4NR (off the A498). It's a Pay & Display car park with about 40 spaces which fill up fast during the summer months. Hence, get there early to avoid disappointment. In fact, we had to postpone our hike by a day as we couldn't get a parking space when we arrived at 9:30am on a morning in August. The next day, we arrived at 7:30am instead.

Leave the car park in the direction of the ticket machine and walk for 50 metres, then cross the road. The start of the Watkin Path is up some stone steps to the left of the National Trust farm, Hafod y Llan.
The Ascent – Snowdon via the Watkin Path
The path leads initially through woods which provide a welcomed shade on sunny days.
After about 30 minutes, you'll reach the Watkin Path Waterfalls. These beautiful pools are frequented by hikers after summiting Snowdon as well as others who only visit the pools.
Shortly thereafter, you'll pass the ruins of the Snowdon slate quarry after which the path becomes steeper and rockier.
At times, it was difficult to make out the path so we had to stop and think where to go next. Watching where the descending hikers were coming from helped with the navigation, too.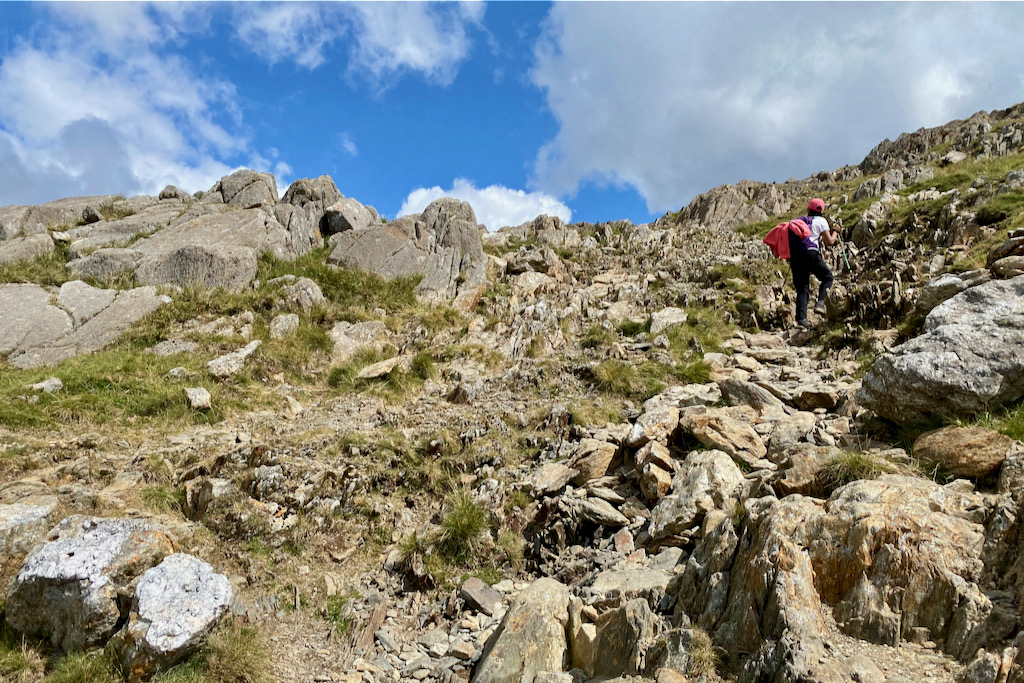 The final, upper section is where you'll find loose scree and very steep sections again. On a dry, sunny day, we had no issues on this path. You'll still have to be sure-footed though in the scree. On a wet day, however, I can imagine how this section can become very slippery and tricky to scale.
Don't forget to turn around at times and admire the views as well as the path you came from. In the image below you can spot Y Lliwedd on the left and the outline of the Watkin Path horizontally from left to the middle of the picture.
I promised you that there would be some easy scrambling involved on this hike…
Congratulations! You made it up Snowdon – all 1,085 metres of it! Now, enjoy the views, take a summit picture and have a picnic.
Important Note: The summit building, Hafod Eryri, is closed until 2023. For more information, check Snowdon Railway's website.
After reaching the summit after about 3.5 hours, we were greeted with long queues for taking summit pictures. I didn't expect this at all as the Watkin Path was very quiet; but of course, all the routes take you to the summit eventually!
The Descent via the Watkin Path
Some hikers decide to take a different path down Snowdon but this wasn't an option for us as only the Watkin Path would lead us back to our car park. Furthermore, we also wanted to visit the Watkin Path Waterfalls at the beginning of the path.
Don't forget to look back once in a while; to admire either the views or the steep, rocky steps.
Watkin Path Waterfalls
After your walk up Snowdon, you can take a well-deserved plunge in the Watkin Path Waterfalls. The water temperature in the pools is chilly to refreshing, even in the summer, but this doesn't deter many a hikers to take a refreshing dip afterwards. If you aren't up for a hike to Snowdon's summit, you can visit the waterfalls which are only a 30-minute walk (approx. 2km) away from the car park.

Don't forget to bring a light-weight towel to dry off with afterwards.
Hiking gear for Snowdon's Watkin Path
To have the best chance of a safe and successful hike, it's vital that you're well-prepared as well as well-equipped. This is true for both; yourself and your kids. Do not cut corners when it comes to kitting out your kids with appropriate hiking gear, too.

Well-fitting and water-proof hiking boots with ankle support as well as hiking socks for comfort make up the basis for essential hiking gear. See the list below for our full packing list for a day hike.
Essential Hiking Gear List
For Adults
Trekking or Nordic Walking poles
Whistle
Map (& Compass, if you know how to use it)
Mobile Phone
Camera
Nutritious snacks
For Kids
Trekking or Nordic Walking poles
Whistle
Nutritious snacks
Essential Hiking Clothing
For Adults
Hiking boots with ankle support
Rain jacket & rain trousers
Sun hat
Swimming costume and light-weight towel (if you want to plunge into the Watkin Path Waterfalls at the end)
For Kids
Hiking boots with ankle support
Hiking trousers
Rain trousers
Sun hat
Swimming trunks/costume and light-weight towel
Other Snowdon routes
In addition to the Watkin Path, there are several other routes up Snowdon:
Llanberis Path
Snowdon Ranger Path
Rhyd Ddu Path
Y Lliwedd
Miners' Track
Pyg Track
Y Lliwedd (ridge walk)
Crib Goch (ridge walk)
The diagram below depicts the difficulty, fear factor and crowds of the various Snowdon routes.
For more information about the other routes, check out Visit Snowdonia's website.

Source: https://trekaddict.co.uk
Where to stay near Snowdon
We stayed at a campsite since we were hiring a motorhome. There are plenty of campsites near Snowdon for all camping types (tent, motorhome/campervan, caravan, etc.). The Dolgam Campsite is a great base to explore this part of Snowdonia. It is conveniently located on the A5 and boasts newly refurbished and clean toilet & shower facilities as well as electric hook-up and freshwater refill.

Alternatively, there's also the Farmhouse B&B at Dolgam with pristinely clean and comfortable rooms, delicious breakfast and very friendly hosts.
Final Words
If hiking Snowdon is on your bucket list, I hope this guide will help you decide whether the Watkin Path is the right route for you or not.

Whichever route you take – and whether kids tag along or not – it'll be a memorable experience and a huge feat you can be proud of. So, buy a map, prepare well and enjoy the hike!

Happy Hiking!
---
Related Posts
You Might Also Like
---